XCIPTV is a stream player application which you can use to watch IPTV flawlessly. Currently (February 2023) it is available on Google Play Store with over 5 million downloads. Most user ratings about this app are above 4 starts and it has all the necessary features that one would want from their IPTV application. Let's see How to install XCIPTV player on Android and start watching streaming content.
XCIPTV app is made by OTTRUN company. There are lots of amazing features in this application e.g. Favoriting, Recording, Scheduled recording ... you name it. In this tutorial, I will only cover the installation on Android devices with Google Play Store. Other features will be covered in separate articles soon and will be referenced here as well.
This tutorial was made on an Android tablet but If you are using an android TV Box, when you are asked to tap somewhere in this tutorial, that means pressing the center/OK button on the remote controller once.
How to install XCIPTV player on Android?
1-Open Google Play Store and tap on search field.
2-Type in "XCIPTV" and you should see XCIPTV Player showing up as a suggestion. Click on it.
3-That should be the name and the look of the application on play store. Click Install.
4-Once installation is finished, click Open.
5-The login form is the first look of the application. The method of inputting IPTV details inside is XC API which we talked about a lot in previous tutorials.
Let's make an example to clarify this.
Imagine the M3U/Streaming url you have from the IPTV provider is the one below:
http://providerlink.xyz:8443/get.php?username=user1&password=pass1&type=m3u_plus&output=ts
Then, the above fields in the XCIPTV application should be filled in the following way:
Enter XC API URL: This is where we put the domain:port value and according to the M3U address above, it should be http://providerlink.xyz:8443
Username: based on the url above, it should be user1
Password: according to the M3U url above, it should be pass1
Remember, above was just an example, you need to sample your own IPTV free trial or paid subscription and enter details directly from your m3u url.
Once all the details are inputted, click Sign In.
6-The app in pulling data from IPTV server, be patient.
7-XCIPTV Application is ready and loaded! As mentioned before, I will cover all these features soon in separate tutorials and will link them to this very same tutorial. But for now, let's have a look at the most important sections of this application. Click Live TV.
8-Live TV categories should show up. As you can see, Picons supported and looking beautiful.
9-If you click on a Live TV channel, this should be the look and tapping once on the video screen above will full screen the channel.
10-This is the look from the Movies section.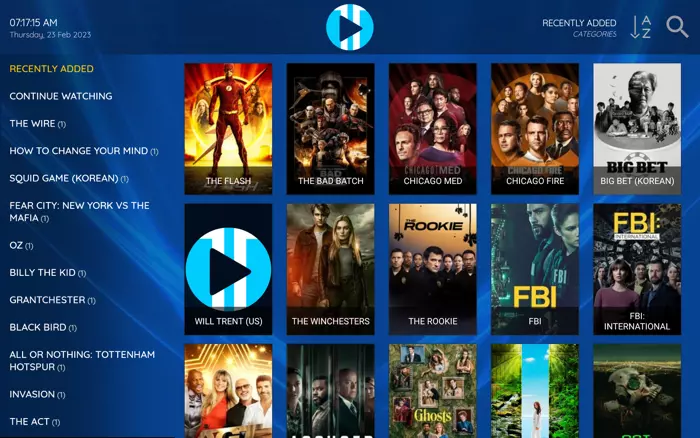 11-And this is how your Series section should look.
Any questions? post it on WDS Community Forum and let us help you.